About New Start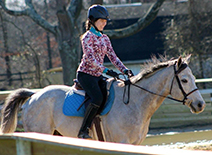 New Start was created in 2013 by the Board of Directors of the Pennsylvania Horsemen's Benevolence and Protective Association (PA HBPA).
New Start's mission is to work with our foster farms to find qualified homes for horses that have been retired from racing at Penn National Race Course.
The program is funded by a $20 dues assessment on each race starter at Penn National along with donations. Horses that race or train at Penn National are eligible for the program.
The horses leave the track and are placed with one of our foster farms. The foster farms receive from New Start a one-time donation per horse to cover expenses while they seek a qualified adopter for the horse. Both adopters and foster farms must fulfill New Start's application requirements and provide New Start with periodic updates on the condition of the horse.
New Start's committee members represent decades of experience training and caring for thoroughbreds. They can provide guidance, reassurance and answers to questions about adopting a racehorse.
New Start appreciates the generous financial support of the following donors:

Pennsylvania Horse Breeders Association
Hollywood Casino at Penn National Race Course
Cross Road Tack Shop
Green Glen Equine Hospital
For more information about New Start, contact Lauren Zagnit, Program Coordinator, at 717.645.6615.