PA HBPA Owner Appreciation Dinner to Feature Stallions' Seasons Raffle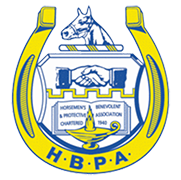 9/4/2019 -
The Pennsylvania Horsemen's Benevolent and Protective Association will host its annual Owner Appreciation Dinner on Wednesday, September 25, 2019. The gala will be held in the John Henry room on the fourth floor of the Penn National Race Course grandstand.
A raffle offering PA based stallion services for the 2020 breeding season will be held for the benefit of New Start. Raffle tickets are priced at $10 each.
The stallions are:
Airoforce
Crown Of Thorns
Dolphus
Peace And Justice
Red Vine
Smarty Jones
Uncle Lino
Unfettered
Warriors Reward
Weigeilia
Tickets are now on sale and will also be available at the dinner. Contact Rodney Eckenrode at 302-236-3886 or Lauren Zagnit at 717-645-6615 for more information.


PA HBPA will Offer Awards for 2019 Thoroughbred Makeover

6/18/2019 -
The Pennsylvania Horsemen's Benevolent and Protective Association is offering monetary awards to horses obtained through New Start, the PA HBPA's retired thoroughbred re-homing project, or from a Penn National Race Course based trainer who finish first, second or third in any of the ten divisions that will be contested at the $100,000 Thoroughbred Makeover. The 2019 Makeover will be presented by the Retired Racehorse Project at the Kentucky Horse Park in Lexington, KY, from October 2 through the 5th.
The cash prizes for horses that meet the PA HBPA eligibility guidelines are $1000 to the winner of any division and $500 to second and third place finishers of any division. Trainers must declare eligibility at the time of entry and the PA HBPA will confirm their eligibility.
Middle Schoolers Raise Funds for New Start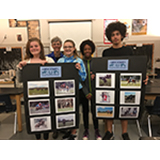 6/11/2018 -
Mrs. Fischer, for her Make A Difference (MAD) project, challenged students in her eighth grade life sciences class at Lower Dauphin Middle School to learn about a local charity or non-profit then decide on a course of action that would benefit that organization.
The students decided, under the encouragement of classmate Martina, who previously had adopted a horse from New Start, to promote the PA HBPA's re-homing program. The four students (Martina left the group because she was injured in a mechanical bull riding accident and is being home schooled) began this project at the beginning of the school year. They learned about New Start from our Web site and Facebook page, and contacted Lauren with questions.
The students decided to have a popcorn sale at their school and so they had to rent a popper then cook the popcorn. The popping took place early one morning before the start of school but their efforts paid off. The popcorn was a great hit, the 200-odd bags sold out in minutes and raised $173. for New Start.
New Start is very grateful for all the efforts of these dedicated fund raisers. From the left in the picture they are: Maddy, Mrs Fischer, Felicity, Ericka and Exavier. We wish them success in their future studies.
New Start Re-Homed 140 Retired Thoroughbreds in 2018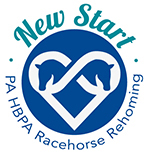 1/23/2019 -
New Start in 2018 re-homed 140 thoroughbreds that were retired from racing at Penn National Racecourse in Grantville, PA. The horses represent 101 owners and 41 trainers.
New Start's 2018 totals were up significantly from the previous year's numbers when 97 horses were rehomed for 73 owners and 32 trainers.
Miss Classy, under rider / trainer Jade, won the Barrel Racing Division of the $100,000 Thoroughbred Makeover, making her the second consecutive New Start graduate to win that division of the Retired Racehorse Project's premier event. She was among six New Start alumni who participated in the four day contest.
The exploits of many New Start grads can be found on our Facebook page.
New Start was created in 2013 as the retired racehorse adoption program of the Pennsylvania Horsemen's Protective and Benevolence Association. It is funded by a fee imposed on each horse that starts a race at Penn National and it's services are available to all owners and trainers stabled at that track.
T.I.P. Shows, Award Offerings, and Youth Ambassadors for 2019
1/23/2019 -
The Jockey Club Thoroughbred Incentive Program (T.I.P.) today announced that it will offer awards and classes at more than 1,300 shows in 42 states and six Canadian provinces in 2019.
Awards are available for multiple disciplines, including eventing, dressage, Western and English pleasure, hunter/jumper, endurance, Western performance, games, and polocrosse. Awards are also available at some events for Thoroughbreds within their first two years of showing or for Thoroughbreds within two years of their last start.
A full calendar of shows offering awards is available at tjctip.com/CalendarOfEvents.
In addition, the third T.I.P. Championship Horse Show will be held at the Kentucky Horse Park from September 7-8, 2019 in conjunction with the New Vocations All-Thoroughbred Charity Show. A class list is available at tjctip.com/About/CSF.
New Start Horses Shine at Thoroughbred Makeover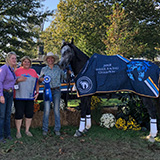 11/13/2018 -
New Start, the PA HBPA's retired racehorse rehoming program, sponsored the Free Style Division of the recent $100,000 Thoroughbred Makeover but it was a New Start graduate who dominated the Barrel Racing Division. Miss Classy, who on February 22, 2017 finished seventh, 20 lengths back in a field of bottom maiden claimers at Penn National Racecourse when she made her lone career start, overpowered her competition at the Makeover in winning all five of the qualifying rounds. Miss Classy's total time of 80.428 seconds was nearly two seconds faster than the second-place finisher's.
Miss Classy, trained and ridden by Jade Wirick, became the second consecutive Barrel Racing winner to come from the New Start program. Not So Silver won the 2017 Barrel Racing Division under rider / trainer Mindy Stoops. Stoops rode Bad Girl Phase to a second place finish in the 2016 Barrel Racing competition.
Miss Classy is a 2013 daughter of Old Fashioned. She made her one career start for trainer Erin McClellan who donated her to New Start soon after her less than promising racing debut. McClellan cited the mare'ss diminutive size, which makes her ideal for barrel racing. Jade had reservations about Miss Classy's readiness for the Makeover event due to abscesses in a hoof. The pair were late arrivals to the Kentucky Horse Park in Lexington, where the Retired Racehorse Project presented the Makeover during the first week of October. Jade's decision to compete was rewarded with a winner's prize of $5000 from the RRP, an additional $1000 bonus from the PA HBPA and $2750 for being a New York bred.
Other New Start finishers included Beatle Boots who finished 7th in Competitive Trail under Sondra Fallon, and Pindar, who was 13th in Field Hunter and 15th in Show Hunter under Kim McVeigh.
The PA HBPA Makeover bonus program awards competitors who came through New Start or were obtained from a Penn National Racecourse based trainer with $1000 for a win and $500 for a second or third place finish in any of the Makeover's 12 divisions. Christopher Tejero, who works for trainer Clovis Crane, received a $500 bonus for his third place finish with La Mala in the Ranch Work Division. La Mala is a 7-year-old Gouldings Green mare who retired with earnings of $118,936 and a record of five wins, six seconds and six thirds. La Mala last raced for trainer Miguel Fernandez.
New Start Horses Shine in RRP'S 2017 Thoroughbred Makeover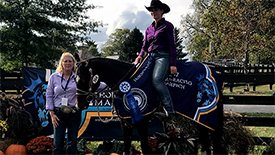 10/24/2017
New Start was represented by six horses at the recent $100,000 Thoroughbred Makeover which was held at the Kentucky Horse Park in Lexington. The Makeover is an annual event staged by the Retired Racehorse Project whose mission is to facilitate placement of Thoroughbred ex-racehorses in second careers by increasing demand for them in equestrian sports and serving the farms, trainers, and organizations that transition them.
Not So Silver won the Barrel Racing Division under Mindy Stoops, who owns, trains and rides the 3-year-old filly. The win matches the number of times the daughter of Silver Train – Bear Boundary by Boundary won during a brief three-race career for owners Richele Grieb and D A S L Stable, and trainer Mark Salvaggio.
Not So Silver was the fastest of the 23 horses who competed in the division which was held in the indoor arena. Mindy adopted Silver last November from New Start and earned $5000 for her win. Mindy finished second with Bad Girl Phase, another New Start alum, in last year's Barrel Racing Division. She's in the market for a starter for next year's Makeover.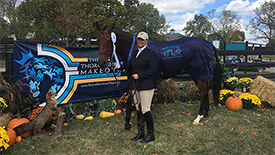 Open Ice Hit, under owner / rider Jennifer Miller, finished 4th of 90 starters in the Makeover's Hunter Division and 14th of 90 in the Dressage Division. A 7-year-old gelding by Perfect Soul (IRE) – Linnea Cal by Crafty Prospector, Open Ice Hit was donated to New Start by owner Bernadine Federouch and trainer Dean Crane. He won 6 of 38 starts and nearly $100,000. Renee Donahue was the foster.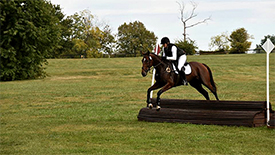 What's The Grade finished 23rd of 83 in the Jumper Division and 70th of 97 in the Eventing Division under owner / rider Jennifer Nelson. The 5-year-old mare by Whatsthescript (IRE) – A Plus Plus by Honor Grades was donated to New Start by owner Robin Prosser and trainer Todd Beattie. "We had a fun filled day at the RRP show in Lexington" Jennifer said. "My girl was very good considering the little time I had to focus on her training. Building a new barn and dang hurricanes in Florida."
Abbie Fischer fostered What's The Grade.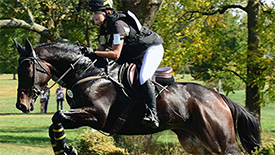 Resisting Arrest with owner / rider Marina Belakonis finished 53rd of 97 in the Eventing Division. A 7-year-old mare by Kafwain – Rector's Lady by Pulpit, Resisting Arrest won five races and was donated by owner Kenneth Saul and trainer Erin McClellan.
"Jasmine Hobart (who is Marina's trainer) surprised us and came all the way out to Kentucky for RRP" wrote Marina. "Couldn't have done it without her and so thankful for her help in making this a successful outing."
Abbie Fischer fostered Resisting Arrest.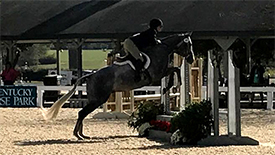 Mega Smoke with trainer / rider Kim McVeigh finished 40th out of 90 entrants in the Hunter Division and attracted a lot of attention for his quiet demeanor and his flashy good looks. Mega Smoke is a 5-year-old gelding by Smoke Glacken – Megan's Leprechaun by Green Dancer who retired from racing as a maiden. Christine Stites owned Mega Smoke and her husband Will trained him.
Kim competed last year in the Makeover with Mae's Debut, another New Start horse, in the Field Hunter Division.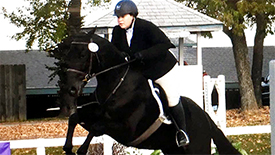 Prince Felix finished 65th of 90 in the Hunter Division under Abbie Fischer. A 3-year-old gelding by Jump Start out of the Cape Town mare Princess Bling, Prince Felix won one race for owner Greg Kadel and trainer Brandon Kulp.
"This horse has the best brain for a 3-year-old and he's only going to get better as he matures" said Abbie, who rode Rock Scene at last year's Thoroughbred Makeover
Bailed from a Kill Pen by New Start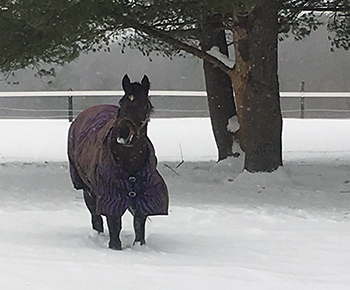 3/15/2017 -
The big dark bay wearing tag R-S6 seemed out of place in the kill pen in Shippensburg, PA. He was facing an imminent departure aboard a crowded trailer for a 2-day trip to Mexico where he, along with his unfortunate paddock mates, would meet his end at a rendering plant. But the owner of the kill pen is above all else a businessman and he is quite aware of the ever expanding and very profitable market for rescuing Thoroughbreds from this type of situation. So, he placed a call to Bev Strauss of Mid Atlantic Rescue to let her know about R-S6.
R-S6 came to the kill pen along with his foal papers which allowed the kill pen owner to provide Bev with a name. She did some quick research, found out R-S6 had last raced at Penn National in August of 2016 and she called Lauren Zagnit, the coordinator of PA HBPA's New Start re-homing program. With little time to spare, Lauren received approval from PA HBPA president Sandee Martin to post the $800 bail to free R-S6.
A rescue from a kill pen in south central Pennsylvania on a January day in 2017 seemed an improbable outcome for R-S6 when he began his racing career. He was hammered down for $160,000 at the 2014 Saratoga Fasig Tipton 2-year-olds in training sale and began his racing career in the barn of one of the nation's top trainers. But a problematic left knee and limited results coupled with a fall through the claiming ranks led the son of Majestic Warrior to Penn National where he made ten starts without recording a win. The last time the Penn trainer saw R-S6 was when he put him on a van for a trip to South Carolina. The trainer had tried to convince the owners to place R-S6 in the New Start program, which takes in any horse that stables at Penn just so they don't wind up in a kill pen. But, R-S6 was a stallion and the owners didn't want to pay for castration, not knowing New Start would have paid for the procedure.
"I don't know how this horse went from South Carolina to the kill pen, but what's important is that he's now safe" said Lauren, who has placed nearly 400 retired thoroughbreds since she took over New Start in 2013.
"This positive outcome is a result of rescue groups working together" Lauren continued. "Bev Strauss alerted me to the situation and I was able to get our board to put up the bail. He's a New York bred so I contacted Lorita Lindemann in New York, a race horse advocate and a good friend from when we raced in New England, who brought the matter to the NYRA stewards. They're working to have the owners help pay our expenses and they may be considering more actions."
R-S6's future is clouded by that problem knee. He may not be sound enough to pursue a new start in one of the riding disciplines that Thoroughbreds flourish in.
"Right now he's on a farm recovering from his castration, putting on weight and just enjoying life" said Lauren. "He's got the most wonderful disposition and I'm looking to find a safe place for him retire to."
New Start receives $5000 Donation from Zoetis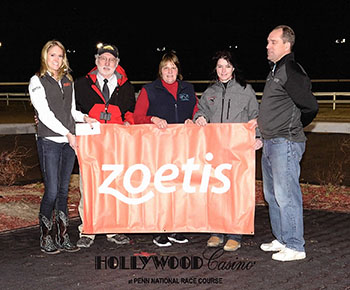 2/23/2017 - New Start, the Pennsylvania Horsemen's Benevolence and Protective Association (PA HBPA) retired racehorse re-homing program, was named grand prize winner in the Zoetis Equine Charity Sweepstakes. The equine charity in Grantville, Pennsylvania, received a $5,000 cash donation from Zoetis on behalf of the nominating veterinarian, Dr. David Marshall. Dr. Marshall nominated New Start while attending the 2016 American Association of Equine Practitioners (AAEP) Annual Convention. He practices veterinary medicine at Penn National Race Course.
"This is the first sweepstakes I've ever won – it's a wonderful contest to win because I can pass on the value to an organization in need and help support the equine industry," said Dr. Marshall. "My responsibility at the racetrack, in part, is to secure the health and welfare of the horses that race here. While the career of a racehorse is limited, racehorses have many valuable years to give following their time at the track. That's why I nominated New Start, they help provide temporary homes for racehorses before beginning their second careers."
As a part of the PA HBPA, New Start has helped re-home more than 350 former racehorses over the past three years. The program focuses on placing horses where they will succeed in second careers as show horses, barrel racers, eventers, polo mounts, pleasure horses and more.
"Once a horse is donated to our program by an owner, our committee's veterinarian and I examine the horse. Our findings determine which one of our foster farms will be most suitable for transitioning the horse to a successful second career. The vast majority of our Thoroughbreds excel in a wide range of riding disciplines but a few go to a sanctuary we help support," said Lauren Zagnit, program coordinator, New Start. "We are so appreciative of the support Zoetis has provided and the opportunity to utilize these funds to help more horses find second careers."
"Zoetis is committed to working together with veterinarians, horse owners and equine professionals to help improve health and wellness for all horses," said Sally Amtmann, senior equine marketing manager, Zoetis. "We are pleased to extend our industry support to provide New Start with resources to assist in managing the horses in their care."
Building on a six-decade history and a singular focus in animal health, Zoetis colleagues work every day to be a comprehensive resource for the equine industry. Zoetis is a proud educational partner of the AAEP, the American Horse Council, the American Quarter Horse Association and a supporter of Time to Ride, A Home For Every Horse and many other equine community initiatives. For more information on how Zoetis supports the equine industry and works to help horses live long, healthy lives, visit www.zoetisUS.com.
The Zoetis Equine Charity Sweepstakes was held at the 2016 AAEP Annual Convention in Orlando, Florida, from Dec. 3-7, 2016. Convention attendees nominated any equine 501(c)(3) charity of their choice at the Zoetis booth, and one grand prizewinner was drawn at random following the show.
Pictured above, from left to right: Megan Lapp, Zoetis; Dr. David Marshall; Lauren Zagnit, New Start; Sandee Martin, PA HBPA president; Todd Mostoller, PA HBPA executive director.