New Start Horses Shine in RRP'S Thoroughbred Makeover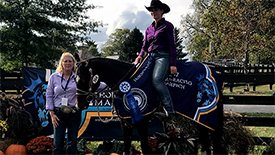 10/24/2017
New Start was represented by six horses at the recent $100,000 Thoroughbred Makeover which was held at the Kentucky Horse Park in Lexington. The Makeover is an annual event staged by the Retired Racehorse Project whose mission is to facilitate placement of Thoroughbred ex-racehorses in second careers by increasing demand for them in equestrian sports and serving the farms, trainers, and organizations that transition them.
Not So Silver won the Barrel Racing Division under Mindy Stoops, who owns, trains and rides the 3-year-old filly. The win matches the number of times the daughter of Silver Train – Bear Boundary by Boundary won during a brief three-race career for owners Richele Grieb and D A S L Stable, and trainer Mark Salvaggio.
Not So Silver was the fastest of the 23 horses who competed in the division which was held in the indoor arena. Mindy adopted Silver last November from New Start and earned $5000 for her win. Mindy finished second with Bad Girl Phase, another New Start alum, in last year's Barrel Racing Division. She's in the market for a starter for next year's Makeover.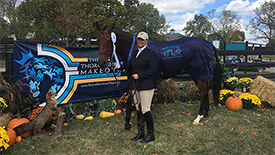 Open Ice Hit, under owner / rider Jennifer Miller, finished 4th of 90 starters in the Makeover's Hunter Division and 14th of 90 in the Dressage Division. A 7-year-old gelding by Perfect Soul (IRE) – Linnea Cal by Crafty Prospector, Open Ice Hit was donated to New Start by owner Bernadine Federouch and trainer Dean Crane. He won 6 of 38 starts and nearly $100,000. Renee Donahue was the foster.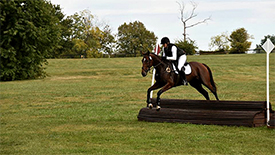 What's The Grade finished 23rd of 83 in the Jumper Division and 70th of 97 in the Eventing Division under owner / rider Jennifer Nelson. The 5-year-old mare by Whatsthescript (IRE) – A Plus Plus by Honor Grades was donated to New Start by owner Robin Prosser and trainer Todd Beattie. "We had a fun filled day at the RRP show in Lexington" Jennifer said. "My girl was very good considering the little time I had to focus on her training. Building a new barn and dang hurricanes in Florida."
Abbie Fischer fostered What's The Grade.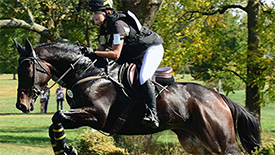 Resisting Arrest with owner / rider Marina Belakonis finished 53rd of 97 in the Eventing Division. A 7-year-old mare by Kafwain – Rector's Lady by Pulpit, Resisting Arrest won five races and was donated by owner Kenneth Saul and trainer Erin McClellan.
"Jasmine Hobart (who is Marina's trainer) surprised us and came all the way out to Kentucky for RRP" wrote Marina. "Couldn't have done it without her and so thankful for her help in making this a successful outing."
Abbie Fischer fostered Resisting Arrest.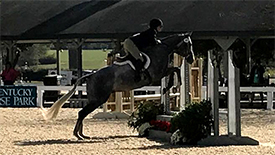 Mega Smoke with trainer / rider Kim McVeigh finished 40th out of 90 entrants in the Hunter Division and attracted a lot of attention for his quiet demeanor and his flashy good looks. Mega Smoke is a 5-year-old gelding by Smoke Glacken – Megan's Leprechaun by Green Dancer who retired from racing as a maiden. Christine Stites owned Mega Smoke and her husband Will trained him.
Kim competed last year in the Makeover with Mae's Debut, another New Start horse, in the Field Hunter Division.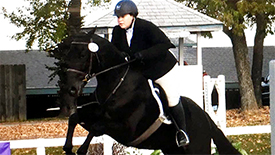 Prince Felix finished 65th of 90 in the Hunter Division under Abbie Fischer. A 3-year-old gelding by Jump Start out of the Cape Town mare Princess Bling, Prince Felix won one race for owner Greg Kadel and trainer Brandon Kulp.
"This horse has the best brain for a 3-year-old and he's only going to get better as he matures" said Abbie, who rode Rock Scene at last year's Thoroughbred Makeover
Owner, Breeder Richard Reveley Has Passed Away

9/18/2017
Dr. Richard A. Reveley, noted Thoroughbred owner and breeder who made his living as a dentist, passed away on June 2, 2017 at his home in Glen Rock, PA. Richard was born on March 8, 1942 in Little Rock, Arkansas.
Dr. Reveley is survived by his wife of 36 years, Gale; brother, Robert H. Reveley of Michigan; and numerous nephews, nieces, and friends.
There was no funeral service, but Dr. Reveley asked interested parties to make donations in his name to the PA HBPA New Start Horse Adoption Program or the Central Penn Racetrack Chaplaincy.
Dr. Reveley owned Springwater Farm in Glen Rock. Richard enjoyed every step in his journey from watching his mares foal, to watching those foals make runs down the backstretch at Penn National Racecourse. He never tired of talking about his horses to anyone who would listen. His horses' names all began with SW as a reference to his Springwater Farm.
Richard served on the boards of the Pennsylvania Horse Breeder's Association and the Pennsylvania Horsemen's Benevolent and Protective Association. Along with his wife, Gale, he earned a Thoroughbred Owners and Breeders Association award as Pennsylvania's outstanding owners and breeders of 1999. They also were selected the year 2000 Mid-Atlantic Regional Owners of the Year. In 2005, Richard received the PHBA Champion Three-Year-Old Filly award, and in 2006, he won the Champion Older Female award.
New Start would like to thank the following who donated in memory of Dr. Reveley:
Nancy and Jim Dixon, Jr.
Susan and Christopher Romano
The Whitlock Family
Sterling Krumbine
Dr. and Mrs. Robert K Holterman
Robert H. Reveley and Kristine Galien
Shrewsbury Family Dentistry
Retired Penn Horses Lead Thoroughbred Makeover Hopefuls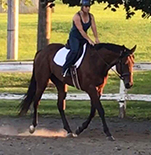 9/14/2017
Penn National Race Course is represented by 50 of the 509 retired thoroughbreds nominated to the Retired Racehorse Project's 2017 $100,000 Thoroughbred Makeover. The Makeover will be presented this year from October 5 – 8 at the Kentucky Horse Park in Lexington.
New Start, the retired racehorse rehoming project of the PA HBPA, has 12 alumni named to the Makeover.
"Looking at where Makeover horses finished their careers definitely gives us some insight into the trajectory these horses take and where rehoming interventions need to happen" wrote Kristen Green on the RRP's Web site. "We compiled the tracks where each horse last raced – the track they retired from – and these 10 tracks supplied over half (52 percent) of our Makeover entries. They are second-tier tracks, where the trainers likely have fewer recourses and less financial cushion. It's the trainers who have the least who are the ones who are asked to ensure that the racers on their way down don't end up in dangerous situations."
The ten tracks referred to are in order of participation: Penn National (50); Mountaineer Park (35); Finger Lakes (27); Mahoning Valley (26); Parx Racing (26); Laurel Park (23); Indiana Grand (22); Belterra Park (20); Charles Town (18); Turfway Park (18).
"Congratulations PA HBPA's New Start and Cantor PA" wrote Clovis Crane, a board member of the PA HBPA who will again participate in the Makeover. "This is a fantastic example of the dedication of our horsemen to repurpose our Thoroughbreds when they are no longer racing."
The Makeover is designed for horses competing in ten disciplines.
T.I.P. Non-Competition Award Applications Available
6/23/2017
Applications for The Jockey Club Thoroughbred Incentive Program's (T.I.P.'s) two annual awards, the Thoroughbred of the Year Award and the Young Rider of the Year Award, are now available online at tjctip.com.
The T.I.P. Thoroughbred of the Year Award recognizes a Thoroughbred that has excelled in a non-competitive career, such as equine-assisted therapy or police work. The award includes a $5,000 grant to the non-profit organization associated with the horse or, if no organization is associated with the horse, to a horse-related charity chosen by The Jockey Club.
The T.I.P. Young Rider of the Year Award recognizes young riders, 18 or under as of January 1, 2017, who own or lease a Thoroughbred for use in 4-H, Pony Club or other activities. The winner(s) will be determined through an essay contest with a total award of $5,000 that can be applied to the college of their choice or to their participation in an event that furthers their involvement with horses.
Thoroughbreds registered with The Jockey Club are eligible for participation in both awards. Horse owners interested in participating in T.I.P. can find more information regarding eligibility and assistance with identification of Thoroughbreds at tjctip.com.
To apply for the T.I.P. Thoroughbred of the Year Award and/or Young Rider of the Year Award, owners can download an application from tjctip.com, complete it, and send it to The Jockey Club Thoroughbred Incentive Program. Applications are due June 30, 2017.
The Jockey Club, founded in 1894 and dedicated to the improvement of Thoroughbred breeding and racing, is the breed registry for North American Thoroughbreds. In fulfillment of its mission, The Jockey Club provides support and leadership on a wide range of important industry initiatives and it serves the information and technology needs of owners, breeders, media, fans and farms, among others.
Created and announced in October 2011, T.I.P. recognizes and rewards the versatility of the Thoroughbred through sponsorship of Thoroughbred classes and high point awards at sanctioned horse shows, performance awards, and non-competition awards. Additional information about T.I.P. is available at tjctip.com and on the T.I.P. Facebook page at facebook.com/tjctip.
International Forum for the Aftercare of Racehorses (IFAR) holds first conference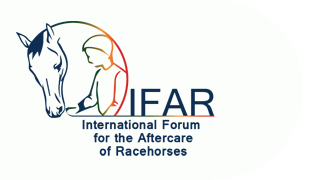 6/23/2017 -
International advocates for equine aftercare emphasized owner responsibility and humane treatment in addition to sharing insights on retirement programs for horses whose racing or breeding careers have ended during the two day International Forum for the Aftercare of Racehorses (IFAR), which held its first conference in Washington, D.C., on May 17 and 18, 2017.
The IFAR event coincided with the Pan American Conference, an international conference on Thoroughbred racing hosted by The Jockey Club and the Latin American Racing Channel.
"The IFAR conference featured presentations from a unique international gathering of aftercare participants from some of the sport's top organizations in Thoroughbred aftercare," said Di Arbuthnot, chairman of IFAR and chief executive of Retraining of Racehorses. "Having our conference coincide with the Pan American Conference enabled us to share our views on aftercare best practices with a truly global audience, which is part of our mission."
IFAR conference topics covered all aspects of Thoroughbred aftercare, including post-racing options, connecting aftercare and horseplayers, harmonization of the rules of racing for owners, and standards for aftercare providers.
In her presentation to the entire Pan Am Conference on Thursday, Arbuthnot discussed IFAR's vision for aftercare in the global Thoroughbred industry and reminded attendees how important aftercare is to the entire industry.
"We all have a shared responsibility for the welfare of racehorses, which extends beyond the track. Across the entire animal welfare debate, the spotlight is on an animal's quality of life and the emerging concept of a life worth living," Arbuthnot said. "The welfare of racehorses throughout their lifetime is one of the single greatest issues facing the racing industry. A key function of IFAR is to provide help and support by sharing expertise and good practice on a global basis whilst recognizing cultural differences."
Thursday's keynote address was delivered by Michael Blowen, a former film critic for the Boston Globe and founder and president of the Thoroughbred retirement facility Old Friends. He also made his presentation at the Pan Am Conference.
"Horses have value and I consider [equine] retirement a legitimate career. This is their third career. These horses are priceless. Racing is based on competition on every level: racing, breeding, sales and others. When these horses come to our farm, that competition is over. They tell us how they want to be treated," he said.
"I can't thank you enough for allowing me to have the thrill of a lifetime every day."
The IFAR conference was hosted by The Jockey Club and supported by Godolphin and was open to all racing jurisdictions, aftercare organizations and other interested parties.
A video of the event and PowerPoint presentation will be available on the IFAR website, internationalracehorseaftercare.com, soon.
IFAR is an independent forum that recognizes geographical and industry differences among racing countries and is designed to enhance Thoroughbred aftercare worldwide. Working with the International Federation of Horseracing Authorities, IFAR will raise awareness of the importance of welfare for Thoroughbreds, improve education on lifetime care, and help increase demand for former racehorses in other equestrian sports. For more information on IFAR, visit internationalracehorseaftercare.com.
Bailed from a Kill Pen by New Start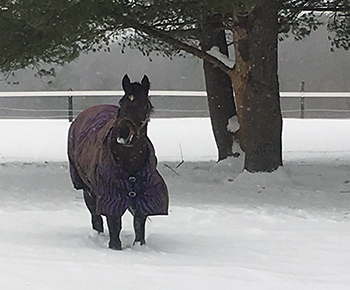 3/15/2017 -
The big dark bay wearing tag R-S6 seemed out of place in the kill pen in Shippensburg, PA. He was facing an imminent departure aboard a crowded trailer for a 2-day trip to Mexico where he, along with his unfortunate paddock mates, would meet his end at a rendering plant. But the owner of the kill pen is above all else a businessman and he is quite aware of the ever expanding and very profitable market for rescuing Thoroughbreds from this type of situation. So, he placed a call to Bev Strauss of Mid Atlantic Rescue to let her know about R-S6.
R-S6 came to the kill pen along with his foal papers which allowed the kill pen owner to provide Bev with a name. She did some quick research, found out R-S6 had last raced at Penn National in August of 2016 and she called Lauren Zagnit, the coordinator of PA HBPA's New Start re-homing program. With little time to spare, Lauren received approval from PA HBPA president Sandee Martin to post the $800 bail to free R-S6.
A rescue from a kill pen in south central Pennsylvania on a January day in 2017 seemed an improbable outcome for R-S6 when he began his racing career. He was hammered down for $160,000 at the 2014 Saratoga Fasig Tipton 2-year-olds in training sale and began his racing career in the barn of one of the nation's top trainers. But a problematic left knee and limited results coupled with a fall through the claiming ranks led the son of Majestic Warrior to Penn National where he made ten starts without recording a win. The last time the Penn trainer saw R-S6 was when he put him on a van for a trip to South Carolina. The trainer had tried to convince the owners to place R-S6 in the New Start program, which takes in any horse that stables at Penn just so they don't wind up in a kill pen. But, R-S6 was a stallion and the owners didn't want to pay for castration, not knowing New Start would have paid for the procedure.
"I don't know how this horse went from South Carolina to the kill pen, but what's important is that he's now safe" said Lauren, who has placed nearly 400 retired thoroughbreds since she took over New Start in 2013.
"This positive outcome is a result of rescue groups working together" Lauren continued. "Bev Strauss alerted me to the situation and I was able to get our board to put up the bail. He's a New York bred so I contacted Lorita Lindemann in New York, a race horse advocate and a good friend from when we raced in New England, who brought the matter to the NYRA stewards. They're working to have the owners help pay our expenses and they may be considering more actions."
R-S6's future is clouded by that problem knee. He may not be sound enough to pursue a new start in one of the riding disciplines that Thoroughbreds flourish in.
"Right now he's on a farm recovering from his castration, putting on weight and just enjoying life" said Lauren. "He's got the most wonderful disposition and I'm looking to find a safe place for him retire to."
New Start receives $5000 Donation from Zoetis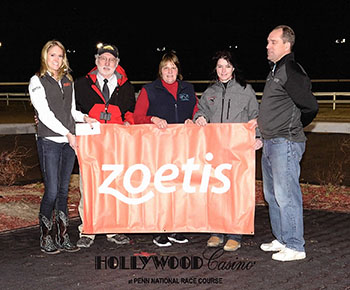 2/23/2017 - New Start, the Pennsylvania Horsemen's Benevolence and Protective Association (PA HBPA) retired racehorse re-homing program, was named grand prize winner in the Zoetis Equine Charity Sweepstakes. The equine charity in Grantville, Pennsylvania, received a $5,000 cash donation from Zoetis on behalf of the nominating veterinarian, Dr. David Marshall. Dr. Marshall nominated New Start while attending the 2016 American Association of Equine Practitioners (AAEP) Annual Convention. He practices veterinary medicine at Penn National Race Course.
"This is the first sweepstakes I've ever won – it's a wonderful contest to win because I can pass on the value to an organization in need and help support the equine industry," said Dr. Marshall. "My responsibility at the racetrack, in part, is to secure the health and welfare of the horses that race here. While the career of a racehorse is limited, racehorses have many valuable years to give following their time at the track. That's why I nominated New Start, they help provide temporary homes for racehorses before beginning their second careers."
As a part of the PA HBPA, New Start has helped re-home more than 350 former racehorses over the past three years. The program focuses on placing horses where they will succeed in second careers as show horses, barrel racers, eventers, polo mounts, pleasure horses and more.
"Once a horse is donated to our program by an owner, our committee's veterinarian and I examine the horse. Our findings determine which one of our foster farms will be most suitable for transitioning the horse to a successful second career. The vast majority of our Thoroughbreds excel in a wide range of riding disciplines but a few go to a sanctuary we help support," said Lauren Zagnit, program coordinator, New Start. "We are so appreciative of the support Zoetis has provided and the opportunity to utilize these funds to help more horses find second careers."
"Zoetis is committed to working together with veterinarians, horse owners and equine professionals to help improve health and wellness for all horses," said Sally Amtmann, senior equine marketing manager, Zoetis. "We are pleased to extend our industry support to provide New Start with resources to assist in managing the horses in their care."
Building on a six-decade history and a singular focus in animal health, Zoetis colleagues work every day to be a comprehensive resource for the equine industry. Zoetis is a proud educational partner of the AAEP, the American Horse Council, the American Quarter Horse Association and a supporter of Time to Ride, A Home For Every Horse and many other equine community initiatives. For more information on how Zoetis supports the equine industry and works to help horses live long, healthy lives, visit www.zoetisUS.com.
The Zoetis Equine Charity Sweepstakes was held at the 2016 AAEP Annual Convention in Orlando, Florida, from Dec. 3-7, 2016. Convention attendees nominated any equine 501(c)(3) charity of their choice at the Zoetis booth, and one grand prizewinner was drawn at random following the show.
Pictured above, from left to right: Megan Lapp, Zoetis; Dr. David Marshall; Lauren Zagnit, New Start; Sandee Martin, PA HBPA president; Todd Mostoller, PA HBPA executive director.
T.I.P. Increases Shows and Offerings in 2017
1/23/2017 The Jockey Club Thoroughbred Incentive Program (T.I.P.) today announced that it will offer awards and classes at more than 1,000 shows in 42 states and six Canadian provinces in 2017.
"The number of shows has grown every year since T.I.P.'s inception," said Kristin Werner Leshney, The Jockey Club senior counsel and T.I.P. coordinator. "It's a testament to how popular the Thoroughbred is as a sport horse and how many opportunities are offered to them when their careers in racing and breeding have ended."
Awards are available for multiple disciplines, including eventing, dressage, Western and English pleasure, hunter/jumper, Western performance, games, polo, and polocrosse. Awards are also available at some events for Thoroughbreds within their first two years of showing or for Thoroughbreds within two years of their last start.
T.I.P. is continuing its Youth Ambassador Program in 2017 with four returning ambassadors (bold below) and eight new. The ambassadors range from 10 states and Ontario and cover multiple disciplines, including hunters, jumpers, eventing, Western, dressage, and equitation.
Audrey Newbrey – Washington
Caitlin Dinkel – Utah
Calista Plante – Maryland
Chloe Bellerive – Maryland and Kentucky
Eliza Cart – Virginia
Elizabeth Spann – Wisconsin
Ella MacMaster – Vermont
Ella Sciog – Florida
Kelsey Loft – Ontario
Meredith Orme – Pennsylvania
Morgan Kastner – Minnesota
Teri Simone – Ontario, Canada
Additional information about the youth ambassadors is available at tjctip.com/Default.asp?page=youth.
T.I.P. also has two new offerings in 2017: the Thoroughbred Recreational Riding Incentive Program (TRRIP) and championships for certain divisions.
Announced in November 2016, the TRRIP is designed for Thoroughbred owners who spend most of their time outside of the show ring, whether on trails (including competitive trail rides), endurance rides, or even driving.
"Many owners just want to enjoy their horses out on the roads and trails, which is another area in which Thoroughbreds excel," Leshney said. "The TRRIP enables them to become involved with T.I.P. and benefit even more from owning a Thoroughbred."
Multiple awards are offered depending on the number of hours spent riding or driving, ranging from a T.I.P. patch for 25 hours to a T.I.P. fleece jacket for 10,000 hours. To receive awards, riders must record their riding time in one-hour increments, rounding down to the whole hour. Arena riding, lessons, and show hours are not eligible for awards. For more information and to download reporting forms, click here: tjctip.com/Default.asp?page=17.
The T.I.P. championships have divisions for hunters, jumpers and English pleasure. To qualify for the championships, a Thoroughbred must participate in a show offering T.I.P. high point awards, classes or divisions in an applicable discipline between September 1, 2016, and July 31, 2017, or participate in the 2016 T.I.P. Performance Awards in an applicable discipline. After qualifying, owners and riders must declare their horse for the championships by submitting a horse declaration form: http://tjctip.com/Champ.asp.
Created and announced in October 2011, T.I.P. recognizes and rewards the versatility of the Thoroughbred through sponsorship of Thoroughbred classes and high point awards at sanctioned horse shows, performance awards, and non-competition awards. Additional information about T.I.P. is available at tjctip.com and on the T.I.P. Facebook page at facebook.com/tjctip.
Retired Racehorse Project's 2017 Thoroughbred Makeover and National Symposium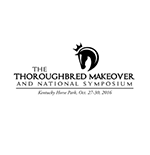 1/23/2017 - The Retired Racehorse Project is accepting applications for the 2017 edition of the $100,000 Thoroughbred Makeover which will be held at the Kentucky Horse Park October 5 - 8.
Trainer applications for 2017 opened December 7, 2016 and will remain open until capacity is reached, with an estimated closing date of February 28. Professional, amateur, and junior trainers may apply whether they have acquired an eligible horse or not. Applicants must demonstrate expertise in at least one of the ten Makeover disciplines through competition highlights, references, and optional video links.
For more information, click to contact the Retired Racehorse Project.
New Start Re-Homed 105 Retired Thoroughbreds in 2016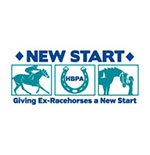 New Start in 2016 re-homed 105 thoroughbreds that were retired from racing at Penn National Racecourse in Grantville, PA. The horses represent 77 owners and 42 trainers.
New Start was created in 2013 as the retired racehorse adoption program of the Pennsylvania Horsemen's Protective and Benevolence Association. It is funded by a fee imposed on each horse that starts a race at Penn National and it's services are available to all owners and trainers stabled at that track.