New Start Re-Homed 56 Retired Thoroughbreds in 2022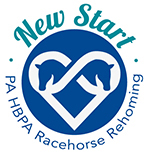 2/7/2023 -
New Start in 2022 re-homed 56 thoroughbreds that were retired from racing at Penn National Racecourse in Grantville, PA.
The exploits of many New Start grads can be found on our Facebook page.
New Start was created in 2013 as the retired racehorse adoption program of the Pennsylvania Horsemen's Protective and Benevolence Association. It is funded by a fee imposed on each horse that starts a race at Penn National and it's services are available to all owners and trainers stabled at that track.