T.I.P. Shows, Award Offerings for 2020
2/17/2020 -
The Jockey Club Thoroughbred Incentive Program (T.I.P.) today announced that it has approved nearly 7,000 awards and classes at more than 1,400 shows in 41 states and six Canadian provinces in 2020.
Awards are available for multiple disciplines, including eventing, dressage, Western and English pleasure, hunter/jumper, endurance, Western performance, games, and polocrosse. Awards are also available at some events for Thoroughbreds within their first two years of showing or for Thoroughbreds within two years of their last start.
A full calendar of shows offering awards is available at tjctip.com/CalendarOfEvents.
In addition, T.I.P. will host two championship horse shows at the Kentucky Horse Park in 2020 in conjunction with New Vocations All-Thoroughbred Charity Shows. The first championship horse show will be held September 4-6 and offer classes for hunters, jumpers, Western pleasure, and English pleasure, and the second championship horse show will be held October 4 and offer classes in dressage, Western dressage, and a combined test. A class list is available at tjctip.com/About/CSF.
New Start Re-Homed 125 Retired Thoroughbreds in 2019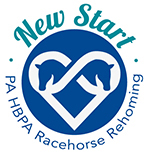 2/17/2020 -
New Start in 2019 re-homed 125 thoroughbreds that were retired from racing at Penn National Racecourse in Grantville, PA. The horses represent 88 owners and 41 trainers.
The exploits of many New Start grads can be found on our Facebook page.
New Start was created in 2013 as the retired racehorse adoption program of the Pennsylvania Horsemen's Protective and Benevolence Association. It is funded by a fee imposed on each horse that starts a race at Penn National and it's services are available to all owners and trainers stabled at that track.